MOTOCADDY PICKS UP TOP MEDIA AWARDS
15 April 2020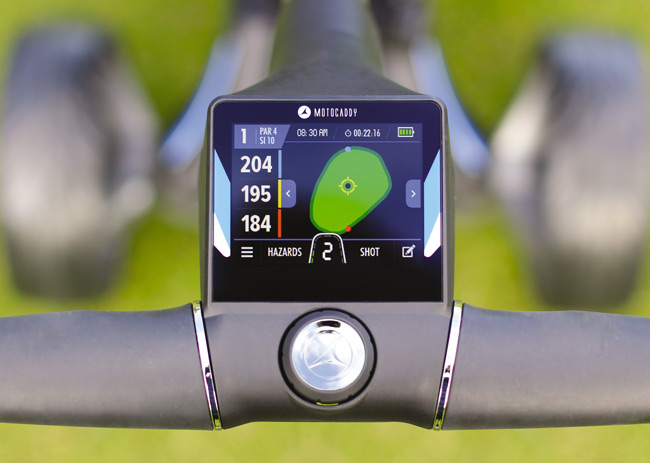 Six new products selected by the UK's leading magazines.
Six of the latest products from Motocaddy, the world's top-selling electric trolley brand, have been credited by the UK's leading specialist magazines among the best golf products on the market in 2020.
Both Golf Monthly, Europe's leading golf media brand, and Today's Golfer, the best-selling monthly golf title, selected the new Motocaddy flagship M5 GPS model among this year's top trolleys under their prestigious Editor's Choice awards.
The M5 GPS – the world's first touch screen-enabled electric trolley – features a high-resolution LCD display that can be controlled in all weather conditions, even when wearing a glove. It also incorporates a fully-integrated GPS system with yardages on over 40,000 preloaded courses and smartphone notifications.
According to Golf Monthly, 'there are so many other features that make it one of the most comprehensive and appealing options on the market', while Today's Golfer said it was 'a sleek piece of kit' that really impressed them.
The influential Editor's Choice at Golf Monthly also included Motocaddy's 'hugely impressive' premium M-Tech trolley with a 36-hole battery and the stylish HydroFLEX waterproof stand bag, designed for carrying as well as fitting on any Motocaddy trolley, and described as 'a winner in our eyes' by the magazine.
Three other selections by Today's Golfer featured the new S1 model – the world's most popular electric trolley over the past decade – as 'everything you'd want in an electric trolley and at a really attractive price;' the Cube, the leading push trolley in the Motocaddy range, which was praised for being compact and incorporating the exclusive Easilock system; plus the Dry-Series bag, viewed as 'everything you could want in a trolley bag'.
"It's a great compliment having two leading golf publications select six different products from our trolley and bag ranges, while both giving the M5 GPS model an award," said Motocaddy's Marketing Manager Oliver Churcher. "These awards are all the more valuable to the brand, when you consider how many other products they had to select from after testing what's new for golfers this season," he added.
The full range of Motocaddy electric and push trolleys and bags can be found at: www.motocaddy.com.
For further information, please contact John Collard at Sports Impact
on 07785 304784 or at