DUCA DEL COSMA INTRODUCES EXCITING GOLF SHOE RANGE
8 May 2020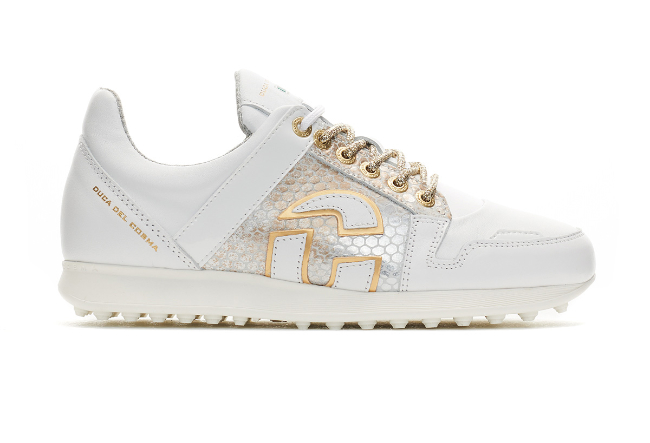 New Italian styles selected to appeal to male & female golfers.
Italian golf fashion brand Duca del Cosma is introducing an exciting new range of premium footwear in the coming months, designed to appeal to American golfers looking for something different in terms of style, comfort and quality performance.
The brand that pioneered the first spikeless golf shoe more than a decade ago has selected 17 distinctive styles – 9 men's and 8 women's – for its debut SS20 footwear range on the world's premiere golf market.
The two collections of full grain leather shoes include a mix of classic waterproof and modern casual styles crafted for wearing both on and off the golf course. There are a total of 25 color options to choose from, as well as patterns and prints that set the brand apart from its more conventional rivals. Each pair of the Italian golf shoes comes with two sets of laces, so golfers can match the shoes with their playing outfits.
According to Creative Designer and avid golfer Baldovino Mattiazzo – the man credited with starting an Italian Golf Evolution – the designs are inspired by Italian fashion, then matched with top-quality leather and advanced technology at the European production facilities to provide the wearer with the ultimate in functional, modern golf footwear.
"The exceptional craftsmanship means that these shoes not only look the part, but will last the test of time and certainly prove their worth as more golfers return to walk the courses," said Steve Gray, VP Sales for North America. "This range offers golfers something completely different to what they've seen before and we've geared up so plenty of stock is available when the golfing season really takes off again," he added.
Among the leading styles in the men's line are the classy ELDORADO men's soft spike shoe in White or Cognac color options; the waterproof BELAIR also in White/Orange/ Light Grey; the CALIFORNIA sneaker in five colorways including Navy/Jeans/ Red; plus the sporty FLORIDA model in White & Navy. The women's collection features the waterproof models KUBANA in Silver/Zebra and VOGUE in White/Gold; plus the sporty FESTIVA line in four colors including Coral.
Launched in 2004, the Duca del Cosma brand now sells its golf shoes in more than 30 countries around the world. To see the comprehensive and colorful US range, please visit the website at www.ducadelcosma.us and follow the brand at  #ducadelcosma.
For further information, please contact Natalie Collard at Sports Impact on +44 (0)208 549 5500 or (0)7885 611698 / +1 2027409062 or email